Ukraine Relief for Refugees
BonaResponds is thrilled to work with Positive Ripples to support Ukraine Refugees. BonaResponds and Positive Ripples is working with groups on the ground to raise funds and awareness for special projects. Keep up with updates on the new Telegram updates from BonaResponds, Positive Ripples, and HaitiScholarships. Download the Telegram app and then join us: Telegram updates thread.
Volunteer and Change the World!
Looking for ways to work with BonaResponds or follow our projects, including projects with Positive Ripples? Check out our blog below and our social media pages. Also, sign up for our What's App group here.
Our Wish List
This wish list shows active projects that BonaResponds, Positive Ripples, and HaitiScholarships are working on. Click on one of the images below to access the wish list with project links.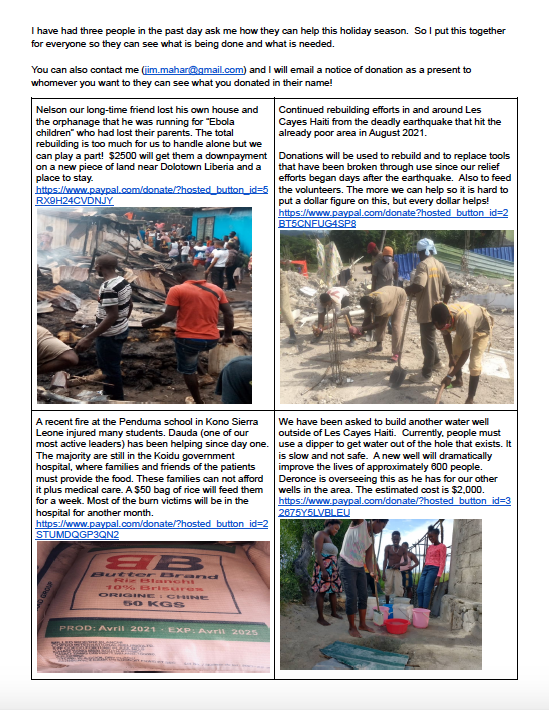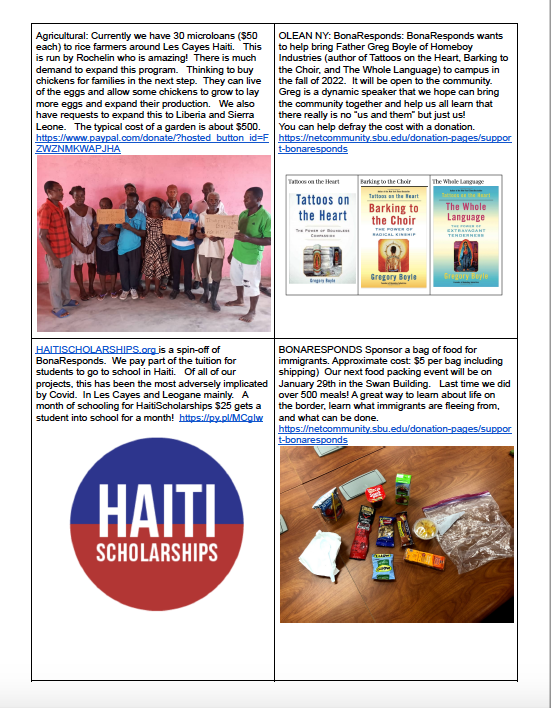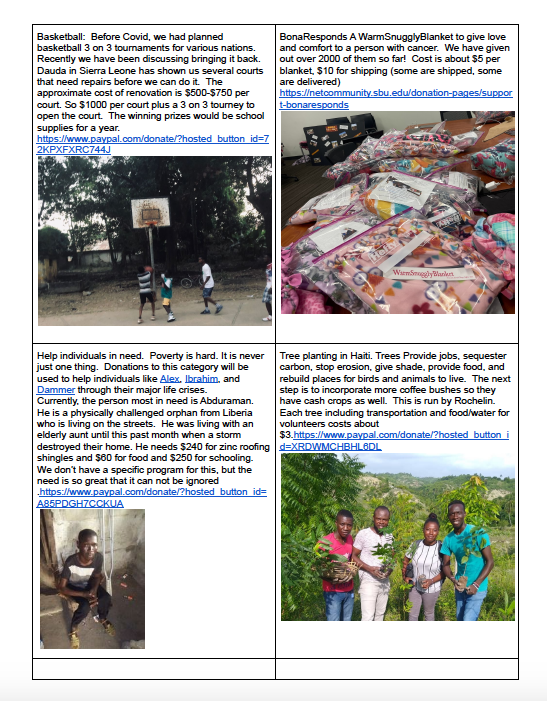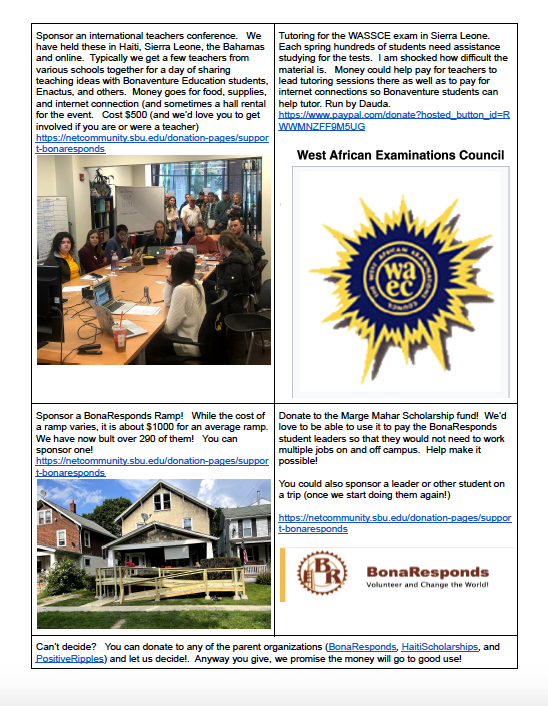 Short-term "pain", long-term gain
Tuesday, October 12, 2021
One problem with volunteering is that you often don't see a long-term impact of a project. Indeed it is a problem in life itself. We can see and measure the short-term cost, but rarely see, and almost never measure, the longer-term benefits (and positive ripples).

Of course, you sometimes see instantaneous results. We can see the homeowner moving back in after a disaster, or seeing a physically challenged person use his/her new wheelchair ramp and knowing that it will give safety and the ability to live at home. Likewise, we see the smile of a child when you give them books or school supplies. We see the water running in the wells we fund in less developed nations. We may even see the report cards of the students we help attend school through our scholarship programs.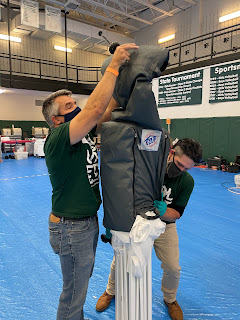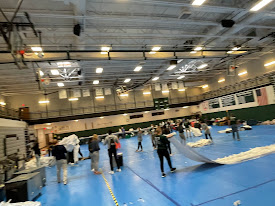 But you just never know. You are never certain that the work is worth it. On days when I am tired or busy or after a defeat (and yes, there are defeats), I would be lying if I didn't admit to questioning the longer-term impact of some of our projects. And I am sure I am not alone.

This weekend I was fortunate to see some of those longer-term impacts and the stories are heart-warming as well as motivational.

This weekend we worked at the Remote Area Medical Pop-up Clinic in Belmont New York. I want to start this story by publicly stating that we had nothing to do with the actual planning or organizing of the event. That task was on Anne, Nikki, and others who worked for over a year to get the event to Allegany County. And they did a great job!

A RAM event takes many, many volunteers. I do not know the final number for this event, but for the one in Olean we had almost 500 volunteer shifts and I am confident that this one was similar. Each person who volunteered made a difference and without them, the events would not be successful (the same is true for virtually any event!).

I spotlight the importance of all volunteers to single out a small handful of volunteers at this event (they will remain nameless). These volunteers had been patients at the event in Olean a month ago. Now they were giving up their weekend to help others. In volunteering, they became but the latest in a long list of people who after getting a hand-up, come together to give back and help others up. In doing so, they became a great example of the BonaResponds' mantras that from time to time we all need a helping hand and also the basic tenant in all of our work that all people have value and can share that value to make the world a better place.

The next story is only loosely tied to the RAM event. At the RAM event, like most events, I got the job that required the least skill. It was to patrol the parking lot and help get people signed in. It was a job that truly anyone could do and indeed I encourage you all to do it the next time that RAM returns to the area! But I will confess that two days of very little sleep and much standing led to the short-run consequences of sore feet and tired legs.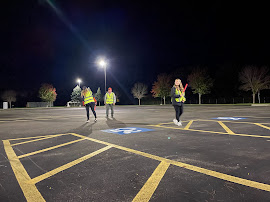 So in the five hours between the end of my overnight shift and the start of the take-down shift, I drove home for a few hours of sleep and a short run on the Genesee Valley Greenway Trail in Hinsdale. To say it was a slow run is an understatement. My legs had zero energy and each step hurt my feet, but I did it. And as the run went on I felt a little better.

I tell you the story not to discuss my lack of fitness, but to mention what I saw on the trail: a family out walking. I know it is not earth-shattering news, but to see them walking on a trail that BonaResponds has worked so hard on was very encouraging and uplifting. Yes, there are "maybes", but the "maybes" are all good: Maybe the kids will appreciate nature more. Maybe the parents will have less stress. Maybe the whole family will be more healthy. Collectively, the "maybes" dwarfed the memories of the work needed to help make the trail.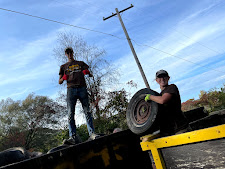 The last story I want to tell of the weekend has to do with another project that BR has worked on, that was not universally popular within the BR volunteer team: work at Gargoyle Park in Olean to help build a disc-golf course. It was hard work (especially when the City would not allow us to use chain saws back in the spring) and when we had few volunteers this fall. The goal of the project (for which Rich deserves most of the credit) is to give people something to do outside that is a good family activity as well as providing some exercise and maybe serve as a draw for the Olean area. This weekend all of those things happened as they hosted the first disc golf tournament. Participants came from hundreds of miles and over 80 competed. A great start to a project that I hope continues to spread positive ripples for generations to come.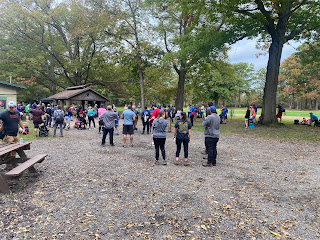 What is the takeaway? The good effects of volunteering can be felt long after the short-run weariness is gone. Think long-term! Volunteer and change the world!
Haitian Trees
So excited to have our tree project underway in Sierra Leone (last week) and Haiti (today!). Why? Carbon sequestration, a food source, jobs, shade, a home for birds, and a way to stop erosion. So many wins!!
If you want to help (or if you want to make your company, organization, or even yourself) carbon neutral please let us know. It really is not expensive! For instance: a $3 donation for every time you fill up your car makes the fill-up carbon neutral! PS. Next step in a few years: planting coffee bushes under the shade of these trees! To find out more, check out
Haitian Trees
.
Volunteers Needed!
Website Helpers: Many hands make light work - looking for help with designing and updating our webpages for various projects.
Accounting Helpers: Calling any and all accountants...anyone willing to help set up a study guide for students in Sierra Leone to pass this test.
Want to read more blog posts? Click here!
---
A Very Sad Update> We lost one of our all-time favorite volunteers. Bill worked with us on many trips, including Oklahoma, Texas (6 trips), Alabama (2 trips), and North Carolina, from 2009-2019 and on every one made many new friends. He also organized events in Dallas as head of the Dallas BonaResponds Chapter. We want to continue his legacy and on future trips there will be a 'Bill Night' when we have a dinner in his honor.
Bill Hammond's Obituary

BonaResponds: Summer 2020
We are gearing up for the fall semester with several projects planned to help both locally and around the world. Projects will look different this year, but we can social distance, take precautions, and still help others (and have fun!). Updates to follow soon.





Volunteer Forms

You can submit a job suggestion to us. Are you a non profit group that has a big job (painting?) that needs to be done? Or do you know of a park that needs cleaning? Poor neighbor who needs some help? Or even a fire hydrant that needs painting. Let us know. Submit your suggestion here.





Volunteer Forms

Volunteering for the first time? Please print and complete the BonaResponds waiver form.

BonaResponds Volunteer Waiver Form


Waiver Form for Home Owners

BonaResponds Work Release Form


BonaResponds Work Order / Job Description

BonaResponds Work Order Form


BonaResponds - Driver Form

BonaResponds - Driver Form




BonaResponds is a member of the New York State Voluntary Organizations Active in Disaster

NYSVOAD